Finding your specific style is pretty difficult no matter your age, but it's even more difficult to maintain a certain style. There's a lot of things you want to keep with you in inspiration, but feel that you can't because you're become an "adult".  But there is literally no need to fear, with the range of internet and style inspirations out there, transitioning your personal style is easy by using pieces from your past and adopting some new bits along the way.
Firstly, people are going to tell you to let go of your past; you don't have to, especially in the case that things in your past make you nostalgic and inspire you to throw a new outfit together or redo your bedroom. There are a lot of things that make you who you are, and it's important to keep that while adding to your collection of interests. The key to finding what works is to focus on a memory from your past that you want to keep with you, like big comfy leg warmers in Autumn, and mix it in with some of your new (and hopefully) more modern wardrobe.
Here are some more tips that kind of spell out how I think I've mastered my (still growing) personal style.
Watch a bunch of movies
I recently wrote down about a dozen movies that I used to watch all the time in high school and that I knew I was inspired by back then. I watched about half of them and remembered why I enjoyed slouchy hats and lots of patterns and eccentric characters,  all those things can be refreshing when you dig into the things you used to love! Movies aren't for everyone — which is something I sometimes forget — so you can also watch old TV shows or read a few books that will get your memory stirring. These are simple acts that can be overlooked. But making time for myself to sit down and enjoy a great film or two really made a difference in creativity.
Let yourself splurge a little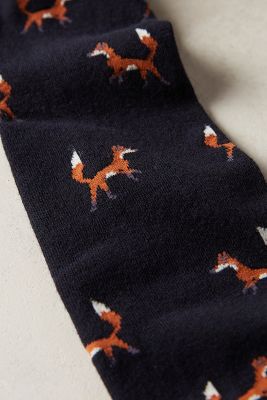 I did something pretty crazy last weekend-and it may have involved buying tights that were over $30. Anthropologie does some crazy magic on me! I had seen a pair of tights with little foxes on them over a year ago, and lusted after them hoping I'd receive them as a gift. I was having a pretty crappy week, and my boyfriend said "Just get them!". I was amazed at how I felt when I just took the plunge and got something that is completely my style, especially after over a year of wishing I owned them. Sometimes buying unnecessary pieces that you know where created for you is as enriching as going to therapy.
Don't let trends take you over
It's easy to go crazy for something when everyone you know has it. Instead, ask yourself, "Is this me? Or do I enjoy it because I think I need it to stay relevant?".  The worst thing is to go shopping and buy every new trend and be the "trendy" gal, because there's no personal connection between you and your style. Do some soul searching and only get the stuff that you really enjoy, you'll feel so much better when you incorporate it with what you already have.
Just be yourself
I know, what a cliche thing to put in an inspirational blog post. But honestly, when it comes to your personal style, it doesn't involve your mom or your best friend or your boyfriend, it purely involves yourself. Take notice for the things that you enjoy, not just what's popular or talked about on E-news. Once you become comfortable with things that you know for a fact you like, you'll carry it with you for a long time without any shame.
Surround yourself with people you can actually tolerate
In high school, you're forced to be around a select amount of people that may be (for lack of a better term) kind of shitty. People like to pretend that who you are in high school reflects who you'll be in real life as an "adult". That's the craziest thing I've ever heard, and I'd like to think I've grown a whole lot since then. Once you're out of there, find people that have similar interests as you, and who are positive, and who won't be intimidated by your awesomeness.
Don't worry about other people's opinions
There are like tons and tons and tons of people living on this earth. Don't let a single person's judgement of you make you feel inadequate, because chances are unless they're your parole officer, they're opinion doesn't matter at all. (Kidding). But in all seriousness, I've had many people that were my age and plenty of people much older than me try to tell me who to date or how my hair should be or what dresses to buy. If you have a few friends and you trust their opinion, then of course listen to those people that you know are pure and honest. But allow yourself to make mistakes and learn things, because other people are worried about their own lives and most likely won't give a second thought to an opinion they gave you, an opinion that can stick on your mind for a few days.
It's hard to go through life changes and still keep your old style. It's also OK to change. Allow yourself to enjoy the things you used to love and dive into new interests as well. It's 2014, and by now there are about 15 different versions of "pale hipster" style, so whatever your personal thing is, just do it. Collect new memories and do new things that will help you discover your interests. When it comes to fashion, it literally always changes. But recognizing the unique things that you enjoy will give you some satisfaction and distinction from the rest of the people around you.
-Heather